Personal tools
AGH Public Areas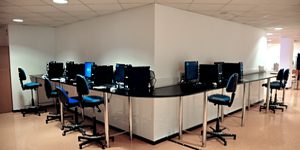 Location
There are two "public areas", outside of the two computer labs and the lecture halls. One of them is close to the stairs, in front of the Informatics Laboratory.
Equipment
6 PCs of the HP 8300 Elite type.
A color laser printer with duplex unit and scanning capabilities, named apub1 is available nearby. If this printer doesn't work, the nearest one is apub2 outside the Eklund lab .
The public area has 4 network connections for private laptops.