Personal tools
News from ICTP 95 - Features - EBASI

Council members of the Edward Bouchet/Abdus Salam Institute (EBASI) recently met at ICTP to discuss how their alliance of African and Afro-American scientists could be strengthened.
African-American Ties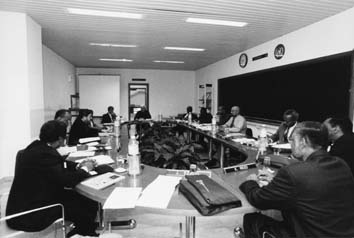 Council Meeting of the Edward Bouchet/Abdus Salam Institute
Council members of the Edward Bouchet/Abdus Salam Institute (EBASI) met at the Centre between 6 and 9 November 2000 to lay out a broad agenda for the organisation's future.
The meeting took place as a follow-up to a series of events, including EBASI's 3rd International Conference on Physics and High Technology in Botswana in August 1998 and a forum on the state of mathematics in Africa in October 1999 in Trieste, that examined potential new avenues for collaboration among black scientists in sub-Saharan Africa and the United States (see "Math Across the Oceans," News from ICTP, Winter 2000, p. 6-7).
Launched in 1988 by ICTP's founding director and Nobel Laureate Abdus Salam, EBASI is named in honour of Edward Bouchet, a late 19th century graduate of Yale University, who was the first person of African descent to receive a Ph.D. in physics in the United States.
"During its brief history, the institute has pursued a number of worthwhile activities--most notably, a series of meetings in Africa that initiated and then sustained close relationships between African and African-American scientists," says Gallieno Denardo, ICTP representative to EBASI and former head of ICTP's Office of External Activities, who has been closely involved with EBASI since its inception. "These efforts have helped participants to learn more about each other's institutions and laid the foundation for researchers from Africa and the United States to collaborate on a variety of research activities."
"Yet, until now," explains Denardo, "the institute has acted largely as an informal association. Over the past few years, many of those involved began to think that it may be time to build a more formal institutional framework. That was our overarching goal in calling for the council meeting."
"The most important outcome of the meeting," says Charles S. Brown, the council's chairperson and chief science officer at Luxcore in Decatur, Georgia, USA, "was the drafting of statutes detailing the institute's structure and collaborative goals. These included the designation of specific responsibilities for its current 15 council members (seven African-Americans, seven Africans, and two ICTP liaisons) and the opening of the institute to general membership. The first member under this new arrangement is Aakhut E. Bak, Department of Physics, Morehouse College, Atlanta, USA."
Another outcome of the meeting was the drafting of plans to expand the institute's reach of activities to generate a broader and more lasting impact not just on physics in Africa, but mathematics and high technology as well. These steps will give the institute a broader foundation for action than it had in the past.
"The effort," notes Denardo, "is part of ICTP's director Miguel Virasoro's long-range goal to more closely link researchers from developed and developing nations, especially researchers who have some affinity to one another--as is the case with African and African-American physicists and mathematicians."
"Despite centuries of separation," adds council member Ahmadou Wagué, "deep cultural ties exist between black scientists in the United States and Africa that could help nurture a spirit of closer collaboration. EBASI hopes to tap both the personal and professional interests that researchers in each of these scientific communities have for one another." Wagué is the coordinator of the African Network on Laser, Atomic and Molecular Physics (LAMP). The network's headquarters are located at University Cheik Anta Diop--an ICTP Affiliated Centre--in Dakar, Senegal.
One of the several activities that the institute plans to pursue is a programme in theoretical and experimental hydrodynamics that will enable young African scientists to pursue their studies at ICTP in Trieste under the supervision of council member Joseph A. Johnson, professor of physics at Florida A&M University in Tallahassee, USA. While students will be able to avail themselves of the Centre's facilities, funding for the effort will come in part from sources in the United States.
"It's the kind of initiative that conforms to Salam's vision," Johnson notes. "The Centre will be at the hub of a multifaceted effort to improve physics and mathematics training in Africa with assistance from African-Americans in the United States." Johnson will spend the next several months seeking funds from agencies and foundations in America. He hopes to have two to three students participating in the overall programme next year, including African participants whose research activities are based in Florida.
Other potential EBASI projects include an initiative to secure a project focussed on external support for ICTP Affiliated Centres like LAMP. The project will be designed to strengthen LAMP's role as a regional laser facility for the training of scientists and technicians in West Africa.
To bolster such efforts, the council has asked ICTP to remain closely associated with EBASI. Such ties, members maintain, are necessary to enhance the institute's visibility and prestige, especially among potential funders.
"Every institute needs to step back and seek new directions as it matures, and EBASI is no exception," observes Denardo. "The decisions made at the council meeting were intended to provide new directions and stronger purpose to the organisation. We will assess our progress as we move ahead, but we are optimistic that the institute will now be able to nurture even closer links between physicists and mathematicians in Africa and the United States in ways that are beneficial to both communities."
For additional information about the Edward Bouchet/Abdus Salam Institute (EBASI), please contact Eleonora Crotta, ICTP Office of External Activities, Strada Costiera 11, 34014 Trieste, Italy, phone 39 040 2240 323, fax 39 040 2240 443, oea@ictp.trieste.it, or Charles Brown, Chief Science Officer, Luxcore, P.O. Box 370349, Decatur, GA 30037-0349, USA, profcsb@bellsouth.net.

Edward Bouchet/Abdus Salam Institute
Executive Board
Chair
Charles S. Brown
Chief Science Officer
Luxcore
Decatur, GA, USA

Director of Africa Office
F.K.A. Allotey
Ghana Atomic Energy Commission
Legon-Accra, Ghana

Administrative Officer
Aakhut E. Bak
Department of Physics
Morehouse College
Atlanta, GA, USA

Abdus Salam ICTP Representatives
Gallieno Denardo
The Abdus Salam ICTP
Trieste, Italy

Faheem Hussain
The Abdus Salam ICTP
Trieste, Italy

African Council Members
Aba B. Andam
Department of Physics
Kwame Nkrumah University of Science & Technology
Kumasi, Ghana

James O.C. Ezeilo
Department of Mathematics
University of Swaziland
Kwaluseni, Swaziland

Jean-Pierre Ezin
Institut de Mathématiques et de Sciences Physiques
Porto-Novo, Benin

Mohamed H.A. Hassan
Third World Academy of Sciences
Trieste, Italy

Leonard Kanangwe Shayo
University of Dar-es-Salaam
Dar-es-Salaam, Tanzania

Ahmadou Wagué
Departement de Physiques
Université Cheikh Anta Diop
Dakar, Senegal

U.S. Council Members
Anthony M. Johnson
Department of Physics
New Jersey Institute of Technology
Newark, NJ, USA

Joseph A. Johnson III
Center for Nonlinear and Nonequilibrium Aeroscience
Florida A&M University
Tallahassee, FL, USA

Ronald E. Mickens
Department of Physics
Clark Atlanta University
Atlanta, GA, USA

Sekazi K. Mtingwa
Department of Physics
North Carolina A&T State University
Greensboro, NC, USA

Kennedy Reed
Lawrence Livermore National Lab
Livermore, CA, USA

Milton D. Slaughter
Department of Physics
University of New Orleans
New Orleans, LA, USA
Back to Contents


Forward to Dateline